Homemade Cheez-Its
Amber Bracegirdle | Bluebonnet Baker Updated
Homemade Cheez-Its! Who needs a red box when you can make your own delciious crackers?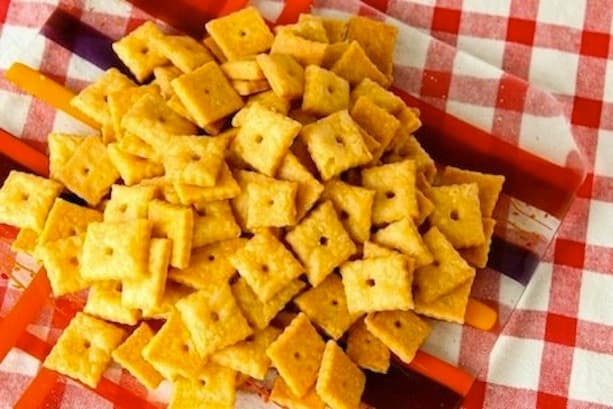 The wonderful thing about food is the nostalgic feelings just one bite can bring. No one understands that better than our own Casey Barber, who has written and entire cookbook devoted to the snacks we all grew up with: Classic Snacks Made from Scratch.
From Combos to Doritos, to regional favorites like TastyKakes, Casey has cracked the code to some 70 snacking favorites we know and love, all without preservatives and unpronounceable ingredients!
Today we're sharing with you Casey's famous recipe for Homemade Cheez-Its, the recipe that started it all, because frankly, they're one of our favorite things to nosh.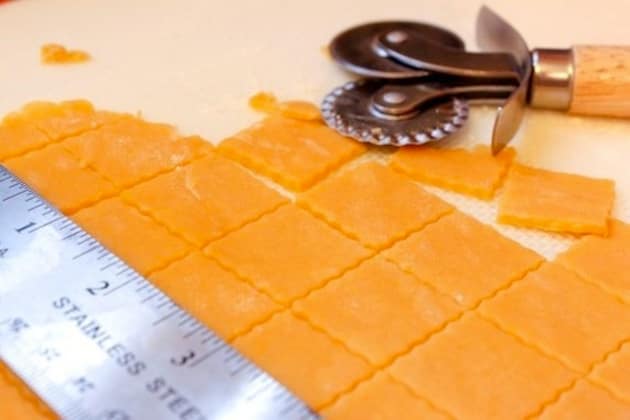 And here is the recipe for Casey's amazing homemade Cheeze-Its:
Ingredients
8 ounces Cheddar Cheese, coarsely shredded
1 ounce Grated Parmesan Cheese
2 tablespoons Unsalted Butter, chilled and cut into 1/2" cubes
2 tablespoons Vegetable Shortening, cut into 1/2" cubes
1 teaspoon Kosher Salt
1 cup All-Purpose Flour
2 tablespoons Boiling Water, ice cold
Directions
In the bowl of a stand mixer, or in a large bowl with a hand mixer, blend the cheeses, butter, shortening and salt together on medium-low speed. The mixture should come together loosely and be soft.
Add the flour and mix on low to combine. The dough will be dry and pebbly.
Slowly add the water one tablespoon at a time, until the dough comes together in to a mass of dough. Depending on the humidity level, you may need more than 2 tablespoons of water to bring the dough together. Add one teaspoon at a time until you have a cohesive dough, if necessary.
Pat the dough into a round disc. Wrap it tightly in plastic wrap, and chill in the refrigerator for at least one hour.
When the dough is chilled, preheat your oven to 375∞F. Line a baking sheet with parchment paper.
Flour a large flat surface, then divide the dough into two pieces. Roll each piece into a very thin rectangle. If you have a ruler handy, the dough should measure 1/8" or less.
Use a fluted pastry cutter (or pizza cutter if you don't mind flat edges) to cut the pastry into 1" squares, then transfer each square to the baking sheet.
Use a toothpick or chopstick to make the signature center holes in each cracker.
Bake for 12-15 minutes, or until puffed and lightly brown at the edges. Watch carefully, as these crackers can go from done to burnt very quickly, and remember that they'll keep cooking as they cool, so err on the side of caution.
Immediately remove the crackers from the baking sheet to a cooling rack and allow to cool completely.
Notes
Store Cheez-Its in an airtight container at room temperature for up to a week.
Depending on the size of your baking sheet, you may have to bake off these crackers in several batches due to the large yield of the recipe.
Recommended
Tags: Copycat, Snacks, Family Meals and Snacks, Crackers, Cheese