Eggplant Sandwich
Julia Mueller | The Roasted Root Updated
A vegetarian sandwich and the truth about roasted eggplant.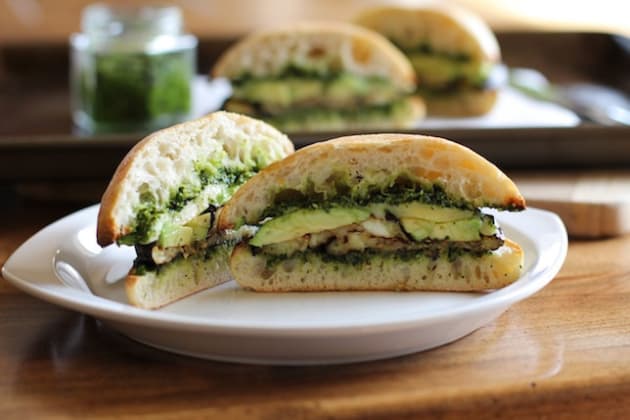 Eggplant is an over-looked under-appreciated vegetable.
It sits perched on its second story corner shelf in the produce department near the rutabagas, turnips, yucca root and other out casted veggies. The deep purple hue, curvy pear-shaped body makes it a true beauty and yet it is far less admired than the ripe red tomato, the crunchy carrot or the snappy celery stock. 
It's true: the eggplant is not a ready-to-eat vegetable and the time involved in eggplant preparation doesn't exactly win it the popular vote.
What one finds underneath the beautiful purple skin is a greenish brownish flesh that is spongy and appears dry. While this sight for sore eyes isn't something one would be inspired to sink his or her teeth into, the versatile eggplant flesh works miracles for a number of dishes. It can be roasted, sautéed, grilled, used for veggie burger patties, pureed into soup, made into curry and so much more.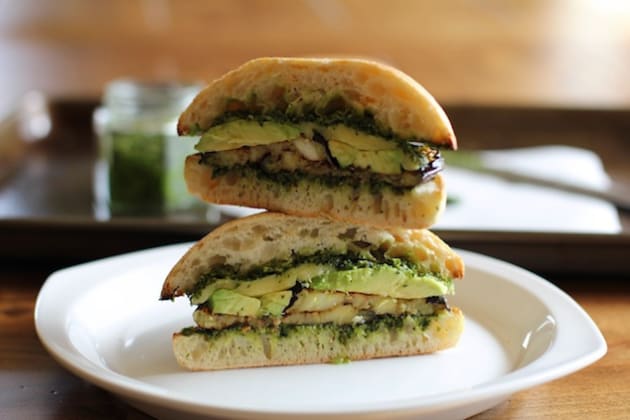 Eggplant, while sitting quietly on the barely reachable produce shelf, is actually very approachable in spite of its shy temperament. Slicing up eggplant, tossing it with oil and a sprinkle of salt and roasting it in the oven doesn't require too much time and is also one of the tastiest and simplest ways of preparing eggplant.
When eggplant and kale pesto sauce meet each other on the street, they do a double-take as though they have found their mirror image. The two belong together and when you add in rustic bread, melted cheese and avocado, a flash dance of delectable joy ensues. I made kale pesto in order to spread it on sandwiches but you can also use your favorite homemade or store-bought pesto sauce for the recipe.
This easy-to-make vegetarian sandwich melts in your mouth. Once you bite into the toasted ciabatta roll, the rush of flavors and textures make you feel as though you're enjoying a sinfully unhealthy treat when in fact our shy curvy eggplant friend and its cohort kale pesto make for a nutritious and satisfying meal. WIN!
Ingredients
1/2 large Eggplant, sliced into 1/4" rounds
1-2 tablespoons Grapeseed Oil
dash of Salt
4 slices Aged White Cheddar Cheese
4 tablespons Kale Pesto
2 rolls Ciabatta, halved hamburger style
1 Avocado
Directions
Preheat oven to 375°F.
Slice half of the eggplant into ¼" rounds, leaving the skin on, and coat both sides of the slices with grapeseed or olive oil.
Place eggplant slices on a parchment-lined baking sheet and sprinkle lightly with salt.
Roast the eggplant in the oven for 10 minutes. Remove from the oven, flip the eggplant slices and roast another 10 minutes. Again, remove the eggplant from the oven, flip the slices over and cook until eggplant is soft, appears moist and is slightly browned, about another 3 to 5 minutes.
While eggplant is roasting, slice the ciabatta rolls in half (hamburger-wise). Place them on a cookie sheet cut-side up and put them in the oven with the eggplant.
Allow the rolls to crisp up and brown slightly. Once they're a little toasted, remove them from the oven, smear all slices with kale pesto, put the cheese on top of the pesto and put them back in the oven until the cheese is melted.
Remove eggplant and bread from the oven. Once the eggplant is cool enough to handle, prepare your sandwiches by adding desired amount of eggplant and avocado.
Cut in half and enjoy with soup or salad!
Notes
Feel free to substitute gouda for white cheddar cheese.

Tags: Vegetarian, Eggplant, Pesto, Kale, Lunches, Healthy, Roasted