Spicy Clams and Fennel
Casey Barber | Good. Food. Stories. Updated
Spicy clams and fennel are a quick-simmered showcases of briny bivalves and sweet, anise-scented vegetables in a rich white wine-infused broth. It's a peasant dish that would be right at home on the shores of Southern Italy any time of year.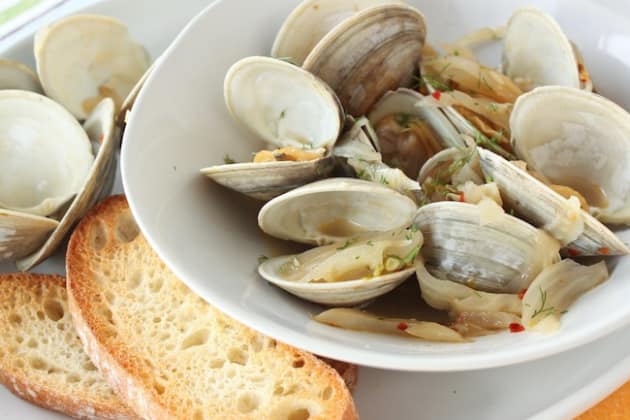 Fennel is a versatile vegetable.
It's entirely edible - fronds, stem, root, seeds, and all; a hardy crop that's able to be grown and harvested nearly year-round; and tasty both raw and cooked. No wonder it's popped up in Italian recipes since the days of ancient Rome, where it was commonly chomped by gladiators to give them strength and keep their senses sharp before battle, and an on-the-go food for soldiers on the march. (Imagine pulling a bulb of fennel out of your knapsack instead of an apple!)
As botanical.com says, "It has followed civilization, especially where Italians have colonized," and I can't think of a better welcoming committee from the vegetable kingdom.
(By the way, its Italian name, finocchio, also doubles as a dirty, rude slang term. But I'll let you look that up on your own.)
Fennel is also a natural companion to seafood, bringing bright flavor to chowders and classic Mediterranean fish stews like cioppino, bouillabaisse, and kakavia.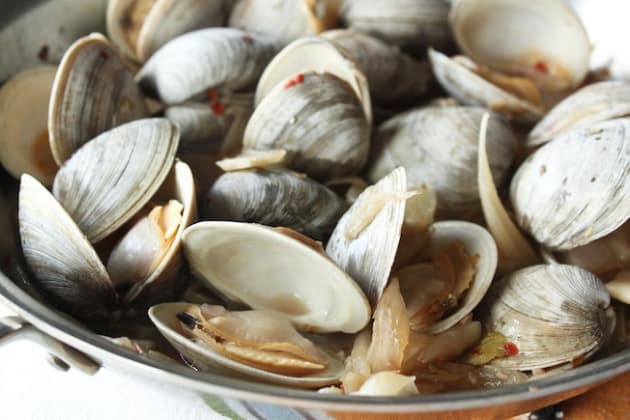 Even if you're not the sort who adheres to the Lenten "fish on Fridays" rule, you'll no doubt appreciate the Italians' frequent use of fennel to perk up yet another bland fish dinner until Easter rolled around and they could dig into the meatballs and pork chops again.
This dish of quick-simmered fennel and clams showcases just how crazy adaptable that super root vegetable can be, adding its herbal essence (heh) to a pot of broth, briny bivalves.
This isn't a Roman gladiator snack; it's a peasant dish that would be right at home on the shores of Southern Italy any time of year. Clams get a break from their usual noodly linguini companions to hang out in the garden for a while, and as they steam open, their salty juices meld with wine into a rich broth that's balanced by the soft slices of fennel. Even those who wrinkle their noses at the taste of black licorice might be surprised by the mellow sweetness found here.
In this recipe, if you're a fan of anise, feel free to splash a tablespoon of Pernod into the dish to amp up the aromatic elements of the fennel. Yes, I know it's a French liqueur, but I find it a more appropriate cooking liqueur than Sambuca. So sue me.
And if you're a spice-hound and you've yet to sample the searing flavor of Calabrian chili pepper, by all means, don't wait. These crushed red chilies from the boot are super spicy, so grab them at you see them at your local market or pick them up online. For the rest of us mere mortals, regular red pepper flakes will work just fine.
Ingredients
24 medium Littleneck Clams
1 Fennel Bulb, rinsed
2 tablespoons Unsalted Butter
1 clove Garlic, minced
1/2 teaspoon Crushed Red Pepper
1/4 cup Vegetable Broth
1/2 cup White Table Wine
1/4 teaspoon Kosher Salt
Directions
Submerge the clams in a bowl of cold water and reserve.
Slice the stems and fronds off the fennel bulb, trim its tough root end, and cut the bulb in quarters. Remove any tough, mangy bits of the bulb and cut the remaining parts of the bulb into paper-thin slices.
Pick off the most luxurious-looking bits of fennel frond and either mince or leave whole as garnish. Reserve those and compost the rest of the fennel (or wrap tightly in foil to save it for another use).
Heat the butter in a large, high-sided skillet or sauté pan over medium heat until melted. Add the sliced fennel, garlic, and red pepper flakes and stir to coat in the butter.
Cook for about 5 minutes to soften the fennel a bit, then add the broth and cover the pan. Cook for about 10 minutes more until the fennel is translucent and tender.
While the fennel is cooking, remove each clam from the soaking water and scrub it well under cold running water to remove any additional grit or sand. Reserve the clams in a clean bowl.
Add the clams and white wine to the pan and re-cover. Cook until the clams open, about 10 minutes; discard any clams that stubbornly refuse to open (it's a bummer, but do you want to risk food poisoning? I don't think so).
Taste the broth and add the kosher salt as needed for seasoning; clams are naturally salty, so you might not need any salt at all.
Garnish with the reserved fennel fronds, then serve immediately with tons of crusty bread for dipping in the broth.
Tags: Italian, Fennel, Seafood, Dinners, Simmering, Clams