Cadbury Creme Egg Brownies
Karly Campbell | Buns in my Oven Updated
These Cadbury Creme egg brownies are perfect for Easter. Read on for an ideal, tasty holiday recipe!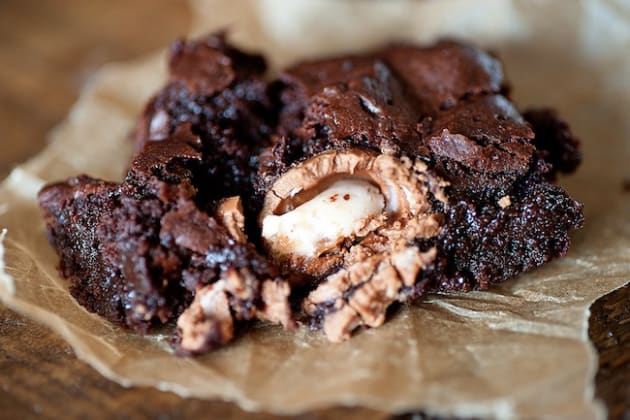 Someone please take away my candy aisle shopping privileges. Things are getting a wee bit out of control.
Not only do I stop in at the candy aisle when I'm at the grocery store, I also make a beeline for it anytime I'm at any store ever. The pharmacy? They have a fabulous candy aisle. The warehouse club? It's like a candy store on steroids.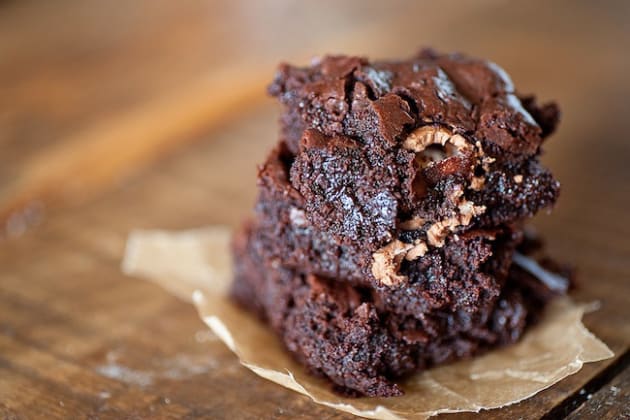 Someone stop me. Take away my debit card, before we end up homeless with nothing but a bag of half eaten Cadbury Creme Eggs to keep ourselves warm.
Today I've doctored up my favorite brownie recipe by sneaking some of those mini Cadbury Creme Eggs right inside the batter. It's sort of ridiculous, but you guys. Ridiculous things taste good. That's a fact.
Not in the mood for brownies? These cookie bars are loaded with candy, too!
Ingredients
1/2 cup Butter
1 cup Sugar, plus 2 tablespoons
2 large Eggs
1/2 cup Unsweetened Cocoa Powder
1/2 teaspoon Salt
1/2 teaspoon Baking Powder
1/2 teaspoon Espresso Powder
1 teaspoon Pure Vanilla Extract
3/4 cup All-Purpose Flour
9 minis Cadbury Creme Egg, unwrapped
Directions
Pre-heat the oven to 350∞F.
Butter a 9x9 baking dish.
In small saucepan over low heat, melt butter completely. Stir in sugar and continue cooking for 1-2 minutes, stirring constantly. Do not allow sugar mixture to boil.
Pour butter mixture into a large bowl or stand mixer, beat in cocoa powder, eggs, salt, baking powder, espresso powder, and vanilla extract. Mix until well combined.
Stir in the flour until well combined.
Spread into prepared pan (batter will be very thick and sticky). Place the 9 creme eggs in rows of three in the batter. Press them down and use a butter knife or rubber spatula to spread the batter up over the eggs.
Bake for about 25 minutes exactly. The edges should be set and the center should still look slightly moist, but not uncooked. Cool on a wire rack before cutting.
Notes
The espresso powder is optional.

Tags: Bar Desserts, Desserts, Brownies, Easter, Baking