Beer Bread
Kate Donahue | Food Babbles Updated
A moist, lightly spiced quick bread filled with three luscious, melty cheeses and hints of ale. This loaf of bread is a carb lover's dream, perfect for celebrating Saint Patrick's Day or just for celebrating your love of beer and cheese.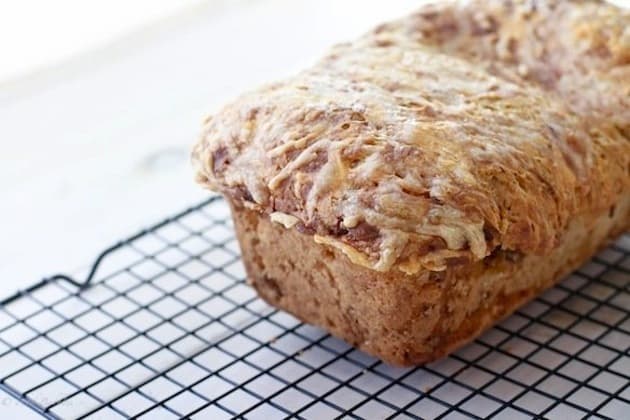 Being Irish, Saint Patrick's Day is something that generates a buzz of excitement in our household. This holiday is a full day of fun for our family. Each year my husband, a firefighter, marches in the county parade, usually bringing along our two small daughters to march beside him. The day is a family affair that includes brothers, sisters and grandparents. We all gather to watch him, the other marchers and listen to the bag pipes.
The parade is my favorite part of the day. Afterward we all head to a local Irish bar for a hearty meal. I almost always have Shepherd's Pie, and we all look forward to Irish soda bread. Oh, and there MUST be beer. There's always beer. One of my other favorite breads at this time of the year is beer bread.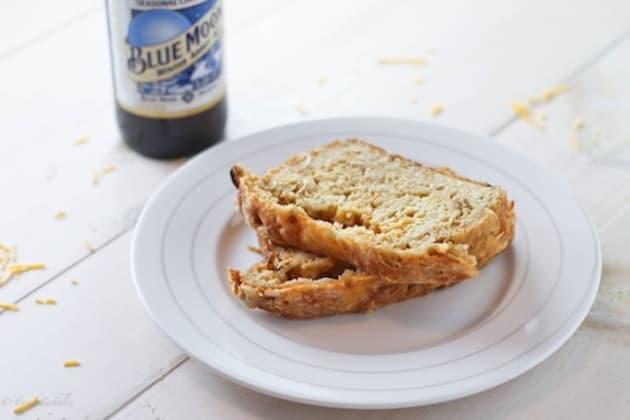 I love making beer bread almost as much as I love eating it because this is a quick bread. No yeast, no rising, no punching it down and waiting again. This isn't a bread that's going to take you all day to make.
We're just throwing together some flour, seasoning, copious amounts of cheese and of course, beer. The result? A beer and cheese lover's dream in the form of a moist, lightly spiced loaf of bread that's pretty much fool proof.
Did I mention there's a lot of cheese going on here? Sharp cheddar, white cheddar and for a little of that Irish flair, Kerrygold Dubliner cheese is a must. Three different kinds of creamy, melty goodness get baked into this loaf. To finish things off, there's a hefty sprinkle over the top before you pop it in the oven that creates an amazingly crisp, cheesy crust.
For the beer component, I used Blue Moon Winter Abbey Ale because that's what I had on hand, but more traditionally, I've made it with Smithwick's Irish Ale. Both ales make a lovely loaf of bread that isn't going to last long at all. Trust me!
So don all your green clothes, gather your family, go see a parade and have an ice cold beer with this loaf of bread. Slàinte!
Ingredients
1 1/2 cups Sharp Cheddar Cheese
1 1/2 cups Extra Sharp White Cheddar Cheese
1 cup Kerrygold Dubliner Cheese, grated
3 1/4 cups All-Purpose Flour
1 tablespoon Baking Powder
1 teaspoon Dry Mustard
1/2 teaspoon Kosher Salt
1/4 teaspoon Cayenne Pepper
1/4 teaspoon White Pepper
1 clove Garlic, pressed through a garlic press
3/4 cup Sour Cream
1 1/4 cups Light Beer
1 tablespoon Worcestershire Sauce
1 large Egg
Directions
Preheat oven to 350°F. Grease a 9"x5" loaf pan and set aside.
In a small bowl, combine 1/4 cup cheddar cheese, 1/4 cup white cheddar and 1/4 cup Dubliner cheese. Set aside.
In a large bowl, whisk together the flour, baking powder, dry mustard, kosher salt, cayenne pepper and white pepper. Stir in the remaining cheeses. Set aside.
In a medium bowl, whisk together the garlic, sour cream, beer, Worcestershire sauce and egg.
Add the wet ingredients to the dry ingredients and stir just until combined being careful not to over mix.
Scrape the batter into the prepared pan. Sprinkle the top with the reserved cheese mixture.
Bake in preheated oven for 55-65 minutes until a tester inserted into the middle of the loaf comes out clean.
Cool on a wire rack, in the loaf pan until the loaf pan is just warm to the touch and can easily be handled. Turn the loaf out on to the wire rack and cool completely.
Recommended
Tags: Bread, Cheese, Appetizers, Side Dishes, Irish, St. Patrick's Day