Banana Cupcakes
Kristan Roland | Confessions of a Cookbook Queen Updated
These Banana Cupcakes with Cinnamon Cream Cheese Frosting are comfort in cupcake form. Try not to eat two at once.
Let's talk about these Banana Cupcakes with Cinnamon Cream Cheese Frosting. Don't they sound like a candle flavor or something?
Honestly, I should start trolling the candle shops for cupcake flavor ideas. But then I'd be that weird lady sniffing every single candle and taking notes on my phone…which, come to think of it, is a normal day for me.
I think my husband dreads going to any store with me that involves smelly things. Because I sniff constantly. I'm a sniffer. I can see how that would be awkward for him, but I can't help myself.  Sometimes I don't even realize I'm doing it.
One time, I spent two hours searching the mall for my lost car keys. I wandered around crying and calling my husband until I finally found them…next to some scented lotion in a Bath and Body Works. It seems that I got so wrapped up in sniffing that i set my keys down and completely forgot about them.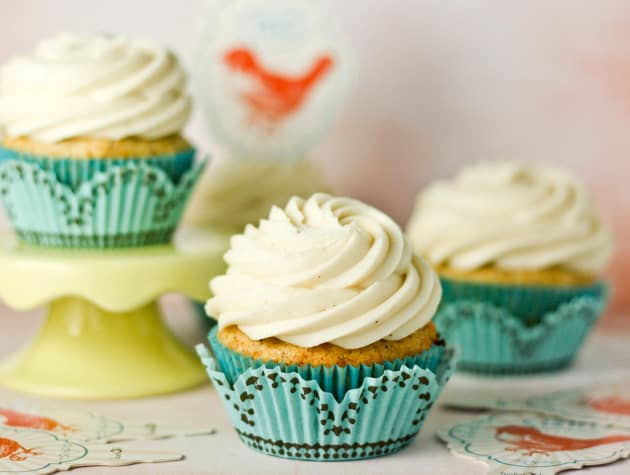 Anyways. Back to these banana cupcakes. They taste so great and comfort food-ey. Perfect for a rainy day at home, when you want something yummy that will make the whole house smell amazing.
And the Cinnamon Cream Cheese Frosting? Hello, my most favorite thing ever. Yum.
Ingredients
Cupcakes:
3 large Bananas, mashed
2 tablespoons Lemon Juice
3 cups All-Purpose Flour
1 1/2 teaspoons Baking Soda
3/4 cup Butter, softened
2 1/4 cups Granulated Sugar
3 large Eggs
2 teaspoons Pure Vanilla Extract
1 1/2 cups Buttermilk
Frosting:
8 ounces Cream Cheese, softened
1 teaspoon Pure Vanilla Extract
1/2 teaspoon Ground Cinnamon
1/2-1 teaspoon Powdered Sugar
1 cup Unsalted Butter
Directions
Preheat oven to 350. 
Line 24 muffin tins with paper liners.
In a small bowl, combine mashed bananas and lemon juice.  Set aside.  In a separate bowl, combine flour and baking soda.
In the bowl of your mixer, beat butter and sugar on medium speed until light and fluffy, about 2 minutes. 
Beat in eggs, one at a time, until combined. 
Add vanilla to the buttermilk. 
With your mixer on low speed, add your flour and buttermilk alternately, starting and ending with the flour mixture. 
Fold in mashed bananas.
Fill prepared muffin tins 2/3 full.  Bake for about 20 minutes, or until tops spring back when lightly touched.  Let cool completely on cooling rack.
Prepare frosting:
 
In the bowl of your mixer, beat cream cheese, butter, and vanilla on medium speed until smooth and combined. 
With the mixer on low, slowly add powdered sugar and cinnamon. 
Continue mixing on low until just combined. 
Increase speed to medium high and beat for about a minute, until fluffy. 
Frost cooled cupcakes.
Tags: Cupcakes, Bananas, Baking, Desserts