Baked French Fries
Jen Schall | My Kitchen Addiction Updated
No need to dine out. These golden and crisp oven baked fries with rosemary and garlic are sure to please the whole family!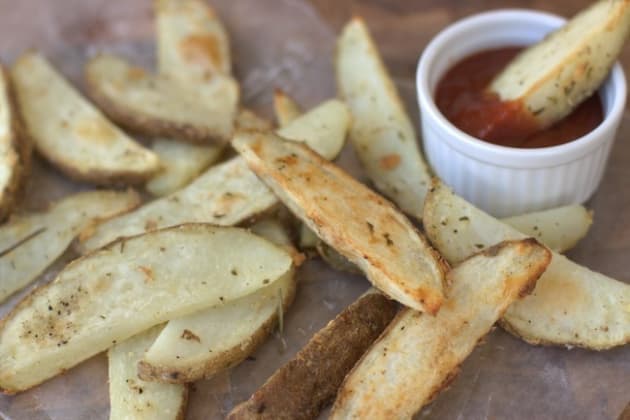 If you have young kids, I'm guessing you don't get out to a restaurant as often as you might did pre-children.
Not only is there the potential for the baby to make a scene in the restaurant (and she inevitably will), the thought of packing up all of the baby things (and don't get me started on how many things such a tiny little baby needs…) is usually enough to make dining out seem like more work than just staying home.
Fries are one of my favorite restaurant indulgences, baby or no baby. I'm not talking about just any fries, though. You can keep your ordinary fast food fries. I'm talking about the fries that I could get at a local restaurant that my hubby and I would go to occasionally on Friday nights. They were perfectly crisp and seasoned with rosemary and garlic. I'm not normally a big fan of fried food, but I can't leave these fries alone.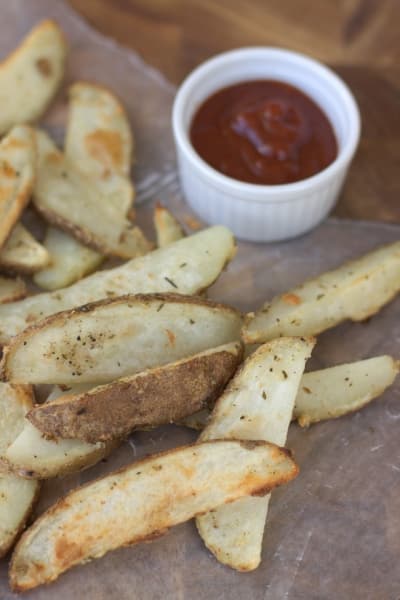 I've recently been craving fries, so I set out to make some at home that would rival the restaurant version. I really prefer not to fry anything in my kitchen, though (except for the occasional batch of cannoli, which is my one exception), leaving oven baked fries as my only option.
A lot of times oven baked fries turn out less than crisp. I've even heard many people refer to them as soggy. If you aren't a fan of oven fries, you're not alone. I, too, struggled with soggy baked fries a few years ago until I discovered a great recipe from In Jennie's Kitchen that involves baking the potatoes a bit before slicing them for fries. It's a brilliant technique, and it works every time. The fries come out golden and crisp. I'd even argue that they're better than their fried counterparts.
So, if you're craving some restaurant-style fries at home, I'd recommend skipping the oil and giving these baked fries a try. The rosemary and garlic take them to the next level.
Whether you're having date night after the kids go to bed or just serving up some burgers for the family, they're the perfect addition to your meal.
Ingredients
4 medium Baking Potatoes
1 tablespoon Extra Virgin Olive Oil
1/2 teaspoon Fresh Rosemary, chopped
2 cloves Garlic, minced
1/2 teaspoon Kosher Salt
1/4 teaspoon Black Pepper
1 tablespoon All-Purpose Flour
Directions
Preheat the oven to 450°F.
Scrub the potatoes well, prick with a fork. Bake the potatoes (unwrapped/uncovered) on the oven rack for 10 minutes.
Meanwhile, whisk together the olive oil, chopped rosemary, minced garlic, salt, and pepper in a large mixing bowl. Set aside.
Allow the potatoes to cool for a few minutes after they come out of the oven. Then, cut each one into large wedges.
Toss the potato wedges in the mixing bowl with the oil mixture. Then, sprinkle with the all purpose flour and stir to make sure all of the potatoes are evenly coated.
Line a baking sheet with parchment paper or a nonstick silicone liner. Spread the potato wedges in an even layer on the baking sheet.
Bake for an additional 25 minutes, until the fries are golden and crisp.
Tags: New Mom in the Kitchen, French Fries, Baking, Side Dishes, Appetizers