Tostadas
Amber Bracegirdle | Bluebonnet Baker Updated
Tostadas are fast, simple and delicious. What better way to please a large gathering of hungry eaters?!?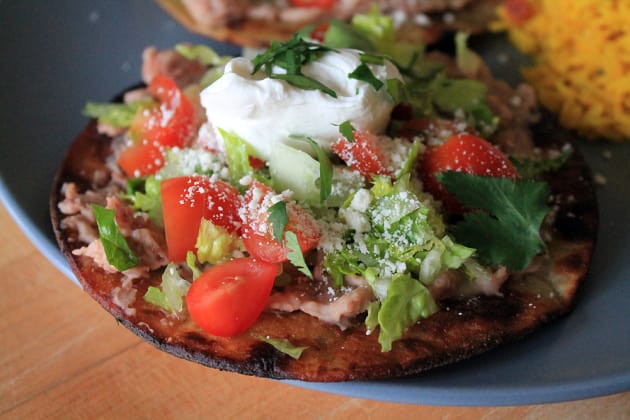 In South Texas, Tostadas are found on most every Mexican restaurant menu. Tostada quite simply means "toasted," and refers to the corn tortilla that forms the base of what amounts to a delicious, open-faced Mexican pizza.
Tostadas are simple enough to put together for a quick weeknight meal, but also pleasing when you've got a crowd. Consider a Tostada Bar for your next game day - different enough from a taco bar to be memorable, and just as easy to prepare.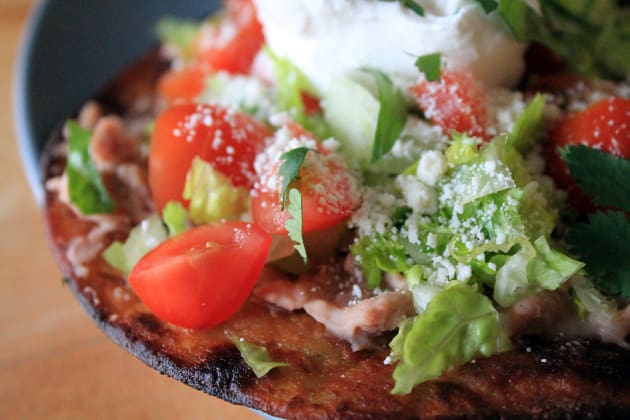 You'll start with corn tortillas, not flour, so keep that in mind as you create your grocery list. From there, toppings are your oyster; freshly made refried beans, ground meats, lettuce, pico de gallo, guacamole, crema fresca - you name it, it is meant for a Tostada.
Ingredients
1 large Tomato, diced
1/2 cup Sour Cream
8 Corn Tortillas
1/2 cup Corn Oil
1/2 cup Cheddar Cheese
15 ounces Refried Beans
1/4 cup Fresh Cilantro
1/2 cup Guacamole
Directions
Prepare the toppings first: dice tomatoes, chop lettuce, prepare guacamole, and chop cilantro. Place all toppings in individual bowls for a topping bar.
Heat refried beans over low heat, slowly, stirring often. When refried beans have reached desired temperature, cover pan with a lid and turn heat to lowest simmer possible to just keep warm.
Line a plate with several sheets of paper towel and set to the side of the stove.
Heat oil in a large frying pan to 350°F. Dip a corn tortilla in just a bit - if it bubbles and fries, the oil is ready. Fry corn tortillas one by one, flipping them after 30 seconds or so. They should be golden brown and crispy when removed from the oil.
Use tongs to remove the tortilla from the oil, letting excess drip down into the pan before placing the tortilla on the paper towels to drain. Repeat until all 8 tortillas are cooked.
To assemble the tostadas:
Take a cooked tortilla and spoon 2-3 tablespoons of refried beans on it.
Sprinkle with cheese, lettuce, and tomato.
Top with spoonfuls of guacamole and sour cream, and top that with chopped cilantro. Eat immediately.
Notes
1. To make a non-vegetarian version of this dish, simply add your favorite taco-flavored meat on top of the refried beans, before the other two.
2. Want to make the guacamole or refried beans on your own? Give it a shot via this refried beans recipe and this guacamole recipe. Enjoy!

Tags: Tex Mex, Mexican, Vegetarian, Dinners, Easy, Entree