King Cake
Kate Donahue | Food Babbles Updated
King Cake is an ideal dessert for a number of celebrations. Prepare for a surprise and learn our recipe now!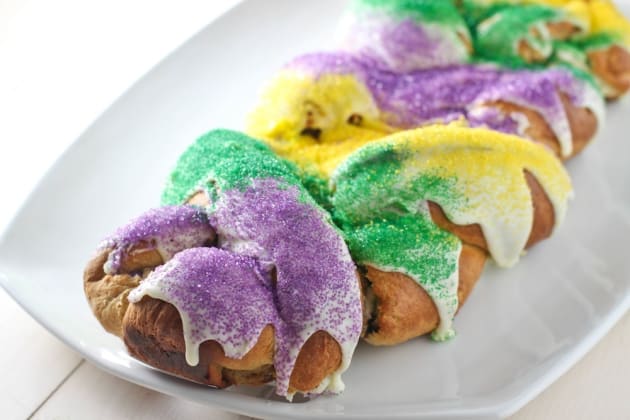 King Cake is associated with a number of celebrations, beginning during the Christmas season and continuing through Lent. The unique traditions in various countries, as well as the ingredients in this cake, are truly endless.
Whether you look to Spain, Mexico, France or the United States, you're likely to find more than a few different versions, each area having its own unique King Cake, full of individuality.
In the southern United States, a King Cake is made to celebrate Mardi Gras, and King Cake parties are celebrated all through the pre-Lenten season up until Fat Tuesday, the day before Ash Wednesday.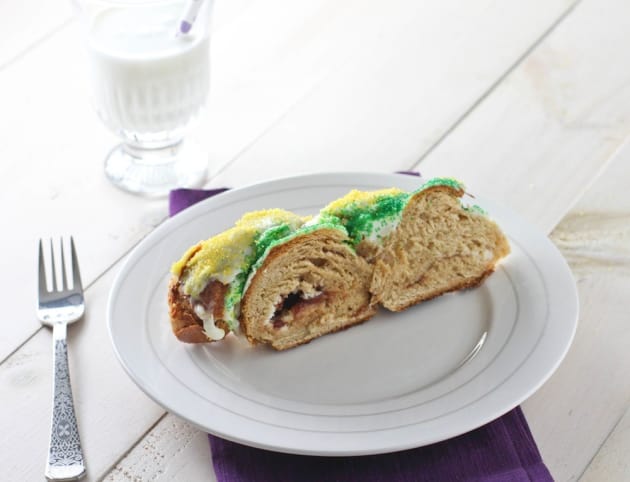 This cake is usually a ring of of brioche-type bread - maybe with a hint of nutmeg or cinnamon - topped with sugary icing that gets sprinkled with the colors of the season.
Purple, green and gold symbolize justice, faith and power to honor the three kings. Lovely all on its own, sometimes the bread is even filled with cinnamon, praline, cream cheese, strawberries or dried fruit.
As you slice into this sweet cake, you may stumble upon a little surprise beyond the delectable fillings, so chew carefully! Each King Cake has one little bean, plastic baby or trinket hidden inside.
The lucky party-goer who ends up with the trinket has the privilege of providing the King Cake at the next get together or hosting the next party.
Inspired by this wonderful tradition, I filled this braid with both a cinnamon and a cream cheese filling, then glazed it and decorated it in the traditional Mardi Gras colors.
This cinnamon-kissed braid is rich in history and the perfect end to any Mardi Gras celebration. It's also perfectly acceptable as breakfast, if you're feeling indulgent!
Ingredients
Dough:
2 cups Sour Cream
1/3 cup Sugar
1/4 cup Butter
1/2 ounce Active Dry Yeast
1 tablespoon Sugar
2 large Eggs, lightly beaten
6 cups Bread Flour
1/4 teaspoon Nutmeg
1 teaspoon Cinnamon
1/2 teaspoon Lemon Peel, finely grated
Cinnamon Filling:
1 cup Granulated Sugar
2 tablespoons Ground Cinnamon
2 tablespoons Butter, softened
Cream Cheese Filling:
1 3 ounce package Cream Cheese, softened
1/4 cup Granulated Sugar
1 medium Egg
Glaze:
1 sifted cup Powdered Sugar
7 fluid ounces Sweetened Condensed Milk
1/2 tablespoon Lemon Juice
Directions
Make the dough:
Spray a large bowl with nonstick cooking spray or grease with a bit of vegetable oil. Set aside.
In a medium saucepan combine sour cream, 1/3 cup sugar, butter and salt. Cook over low heat stirring until the butter melts. Remove from heat and cool to 100-110 degrees.
In a small bowl, whisk together the yeast, warm water and the 1 tablespoon sugar. Set aside for 5 minutes until bubbly.
Whisk together the flour, nutmeg, cinnamon and lemon zest.
In a stand mixer, beat the mixture in the saucepan with the yeast mixture, eggs and 2 cups of the flour until smooth. Continue to slowly add just enough of the remaining flour a little at a time until a soft dough forms, you may not need it all.
On a lightly floured surface, knead the dough for about 10 minutes until it becomes smooth and elastic. After kneading, place the dough into the greased bowl, turning to lightly coat.
Cover and set in a draft-free warm place to rise until doubled in size, about 1 - 1 1/2 hours.
Make the fillings:
In a small bowl, combine the sugar, cinnamon and butter until crumbly. Set aside.
In a second small bowl, mix together the cream cheese, sugar and egg with a hand mixer. Set aside.
Assembly:
After risen, punch down the dough and split into two equal pieces . Roll each portion of dough to a rectangle approximately 18 x12 inches. With a sharp knife, mark the dough into thirds lengthwise with a knife being sure not to cut all the way through.
Make 1 1/2 inch diagonal cuts on the side of the dough, leaving the middle third solid. These diagonal cuts should go all the way through. These will be the strips you use to create the braid.
Spread half of the cream cheese mixture down the center of each rectangle. Sprinkle with the cinnamon filling mixture. Be sure not to overfill.
Alternating from side to side, fold the pieces over the filling. Gently press each tab to seal the folds.
Cover and let rise again in a warm, draft-free place for approximately 30 minutes or until doubled in size again.
Preheat oven to 375 degrees while the dough rises. Once risen, bake braids for 15-20 minutes until golden. Cool completely on racks.
Make the glaze:
Combine powdered sugar, sweetened condensed milk and lemon juice.
Spread over the braids with a rubber spatula.
Sprinkle with colored sugars.
Allow the glaze to set.
Enjoy!
Notes
Half an ounce of active dry yeast equates to two 1/4-ounce envelopes.
Recommended
Tags: Desserts, Bread, Cakes, Baked