Indian Cauliflower Pizza
Kiersten Frase | Oh My Veggies Updated
Attention, vegetarians: read on for an easy and fun recipe that results in a delicious Indian pizza... with roasted cauliflower!
Here is a truth about me: I will put just about anything on a pizza crust.
Seriously, can you go wrong with pizza? I don't think so. Okay, maybe I went a little wrong the time I tried to make a pizza out of leftover mashed potatoes and cheddar cheese (let us never speak of this again!), but on the whole, you can put all sorts of crazy things on a pizza and it's usually pretty good.
When you don't eat meat, your options for convenience foods are already a little bit limited, so creative vegetarian pizza recipes are always a favorite in our household.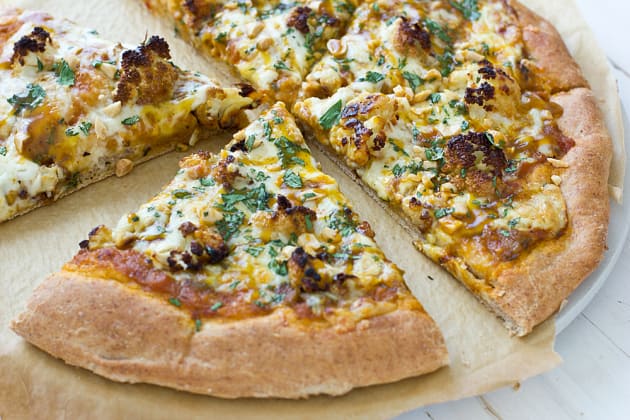 Enter: Indian Pizza.
Instead of a traditional tomato sauce, I use a jarred curry sauce. I've topped my Indian pizzas with everything from chickpeas to eggplant, but I'm partial to roasted cauliflower, so that's what I've used here. Typically I use a prepared pizza crust to make an easy meal even easier, although this time I used whole wheat dough that I made in advance.
And if you're vegan, omit the cheese - it's still delicious.
Ingredients
1/2 small Cauliflower, broken into florets
dash of Salt
dash of Black Pepper
1 whole Pizza Crust
1 jar Indian Simmer Sauce
1/2 cup Mozzarella Cheese
1 tablespoon Mango Chutney
1 tablespoon Cashew Nuts, chopped
1 tablespoon Fresh Cilantro, chopped
Directions
Preheat oven to 400 degrees.
Spray a rimmed baking sheet with oil or cooking spray.
Place cauliflower florets onto baking sheet and coat with additional oil/cooking spray.
Season with salt and pepper.
Roast for 30-40 minutes, stirring halfway through cooking time, until cauliflower is softened and just beginning to brown.
Adjust oven to temperature indicated on pizza crust package.
Spread simmer sauce onto crust, leaving a 1-inch border on all sides.
Top with cheese and cauliflower.
Bake for time indicated on package or until cheese has melted.
Remove from oven and drizzle with mango chutney, then sprinkle with cashews and cilantro.
Notes
Use your favorite jarred curry sauce to simmer, but I used Seeds of Change Jalfrezi.

Tags: Vegetarian, Pizza, Dinners, Indian