Cookie Bars
Karly Campbell | Buns in my Oven Updated
These cookies bars can be loaded with anything your candy-loving heart desires! Enjoy!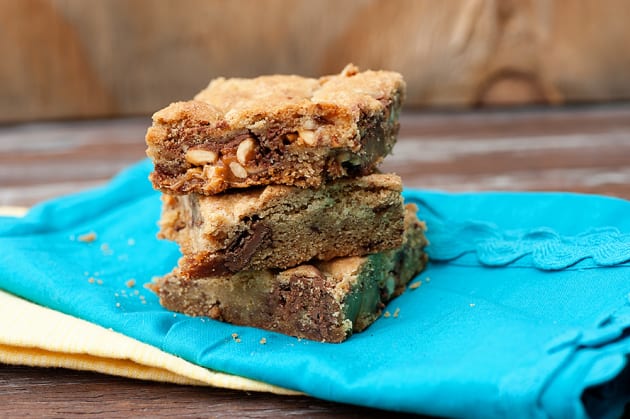 Apparently, there are people out there with hoards and hoards of leftover holiday candy.
First, I'd like to ask just who exactly these people are. I mean, it's candy. It's meant to be consumed, preferably late at night under the anonymity of darkness, but consumed nonetheless.
Second, I'd like to know just where these people hide their secret stashes of candy. I mean, surely it's hidden away, right?
Because around these parts, we eat the candy. Like, immediately.
Alright, so maybe I'm exaggerating a bit. Both of my kids still have Halloween buckets full of leftover candy, but there is no point in pilfering it anytime after November 1. The good stuff is gone immediately. Left are the brightly colored, fruit flavored tootsie rolls, the dum-dums, and the other lame stuff. The chocolate was more or less inhaled before I even had a chance to mention razor blades.
However, if you're one of those people that manages to hang on to the good candy, this Loaded Cookie Bar is for you. If you're more like me and tend to scarf down the candy as soon as it enters the house, well, lucky for you there's probably a grocery store within a few miles of you that carries bags of candy.
You can throw just about any mix-ins you want into these bars, so long as you use 4 cups of them. I went with the mini Snickers (which meant hours of unwrapping, so if you're buying candy, buy big sizes and just chop them. So much quicker!) and a bag of mini Rolos.
Reese's, Hershey's bars, Skor bars, Milky Ways, Three Musketeers... any combination of any kind of chocolate candy bar is going to work here and it's going to work brilliantly.
Ingredients
1 cup Butter, softened
1/2 cup Granulated Sugar
3/4 cup Light Brown Sugar
1 teaspoon Pure Vanilla Extract
2 medium Eggs
2 1/4 cups All-Purpose Flour
1 teaspoon Baking Soda
1/2 teaspoon Salt
4 cups Snickers, chopped
Directions
Preheat the oven to 350 degrees.
Line a 9x13 baking dish with parchment paper and spray liberally with cooking spray.
In the bowl of a stand mixer, beat together the butter and sugars until light and creamy, about 5 minutes.
Beat in the vanilla and eggs, one at a time, until thoroughly combined.
In a small bowl, combine the flour, baking soda, and salt.
Gradually add the flour mixture to the butter mixture, beating well.
Stir in your candy mix-ins until combined.
Use your hands to press the dough into the baking dish.
Bake for 30 - 35 minutes, checking for the doneness you prefer. (I like them a bit gooey.)
Notes
I used Snickers, but you can use Rolos or any kind of chocolate candy your heart desires!

Tags: Bar Desserts, Desserts, Baking, Baked, Chocolate