Chocolate Caramel Corn Cupcakes
Kristan Roland | Confessions of a Cookbook Queen Updated
Our chococlate caramel corn cupcakes will satisfy any dessert craving. You just can't beat that crunchy popcorn on top of fluffy frosting!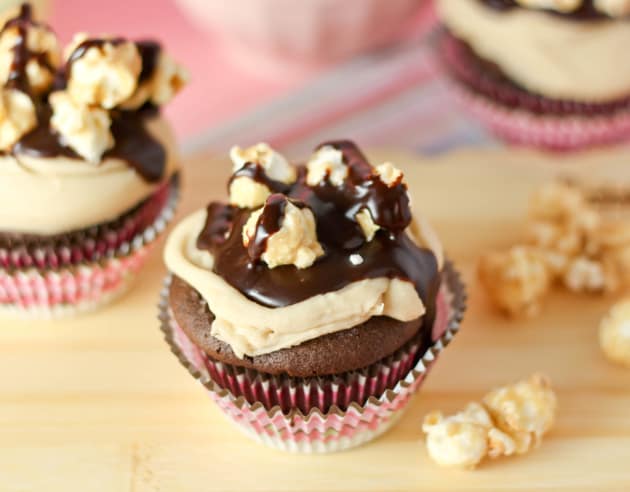 Soooo, question: Is putting popcorn on cupcakes weird? Oh.
What about if it's caramel corn? Covered in chocolate? Yes. I thought that might be acceptable.
Lately, I am eating a lot of caramel corn. It's like a phase. I go through these weird phases where I eat something CONSTANTLY, then I get so sick of it, I don't want to see it again for like a year. But of course, I don't update my husband, so then one evening he'll ask, "can I get you something? Want some caramel corn?" and I'll be all offended and yell things like, "that was over a month ago!! You don't even know me!!"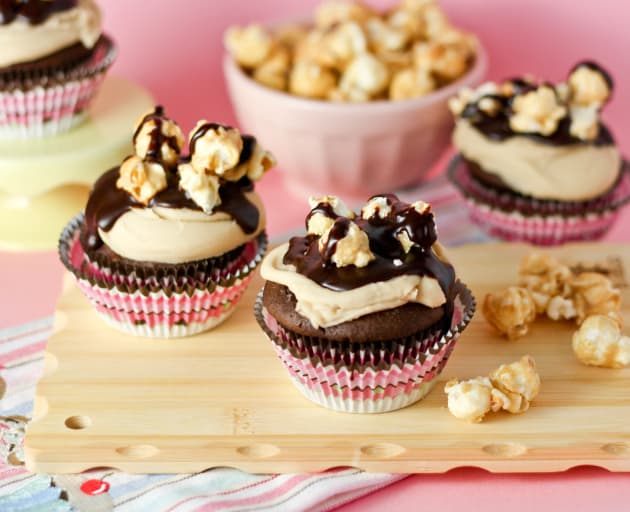 Then I realize that he left the room because he knows that there is no reasoning with a crazy person.
Anyways.
For right now, these are my new favorite cupcake. Chocolate cake, rich caramel-y frosting, and crunchy caramel corn, all topped with a gorgeous chocolate ganache.
Eat these in front of your enemies. It'll make them super jealous.
Ingredients
Cupcakes:
1 box Moist Deluxe Cake Mix - Dark Chocolate Fudge
3/4 cup Corn Oil
3/4 cup Milk
4 medium Eggs
1 package Chocolate Pudding Mix
Frosting:
1/2 cup Butter, salted
1 cup Brown Sugar
1/2 cup Heavy Whipping Cream
1 teaspoon Pure Vanilla Extract
5 cups Powdered Sugar
Ganache:
4 ounces Semisweet Chocolate, finely chopped
1/2 cup Heavy Cream
1/4 cup Light Corn Syrup
Directions
Preheat oven to 350. Line 24 muffin tins with liners.
In the bowl of a mixer, combine cake mix, pudding mix, oil, milk, and eggs. Beat on low speed for 1 minute. Increase speed to medium and beat for about 2 minutes. Fill muffin tins about 2/3 full, and bake cupcakes for 12 - 15 minutes or until center springs back when lightly touched. Remove and let cool on wire racks.
Prepare ganache: In a microwave safe bowl, combine cream and chopped semi-sweet chocolate. Microwave for about 1 minute, stopping every 15 seconds to stir well. Once the chocolate is melted and the mixture is smooth, stir in the corn syrup and set aside to cool and thicken.
Prepare frosting: In a medium saucepan, melt butter over medium heat. Add brown sugar and cream and bring to a boil, stirring constantly. Boil for one minute, still stirring. Remove from heat and add vanilla. Pour mixture in bowl of mixer and beat with wire whisk attachment for about 30 seconds, to cool slightly. Add powdered sugar slowly, with the mixture on low speed. Increase speed to high and whip until a thick frosting is formed.
Frost cupcakes generously. Top with caramel corn and prepared ganache.
Notes
You can use Caramel Corn for garnish (I bought a box of Crunch N' Munch).

Tags: Cupcakes, Chocolate, Desserts, Baking, Baked, Party Food, Popcorn