Chicken Under a Brick
Leslie Green | The Hungry Housewife Updated
Everyone needs a good grilled chicken recipe. Using the old Tuscan method of cooking meat under a brick will give you perfectly cooked chicken with that crispy skin people fight over.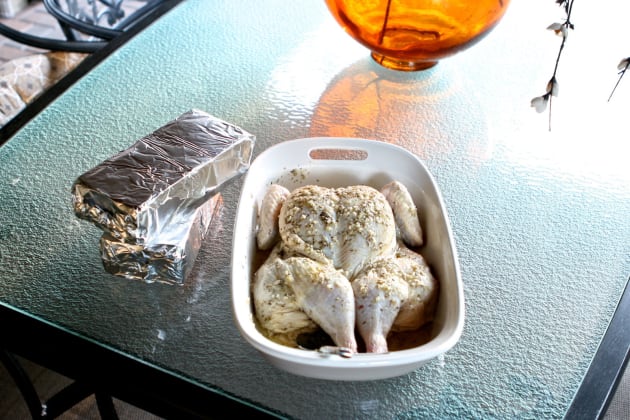 Chicken Under a Brick is one of the easiest grilled chicken recipes around.
You need a flavorful marinade, a butterflied chicken (ask your butcher to do this for you if you are not comfortable), two garden bricks wrapped in heavy duty foil, and a grill.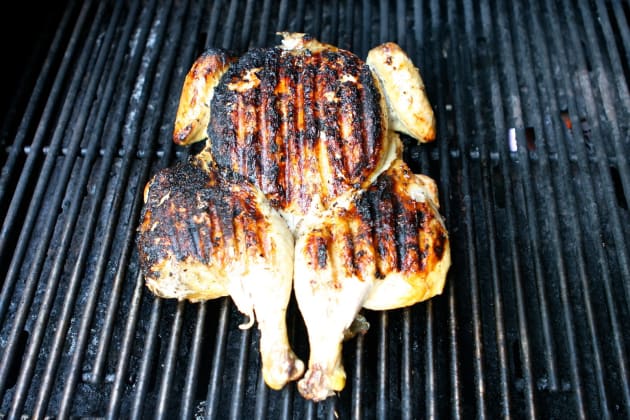 If you have an old rickety grill like mine, watch for flare ups. I keep a squirt bottle near by filled with water or even beer to put out any fires.
Chicken Under a Brick is a crowd pleaser, whether it's just a family dinner or full-on game day grub. Pair it with potatoes, a bright green salad, and don't forget one of our dessert recipes to finish off the meal!
Ingredients
1 whole Chicken, 4 pounds, butterflied
1 lemon-worth Lemon Juice
6 cloves Garlics, minced
1 tablespoon Rosemary, dried
1 teaspoon Kosher Salt
1/2 teaspoon Black Pepper
1/2 teaspoon Dried Thyme, dried
3/4 cup Extra Virgin Olive Oil
2 Garden Bricks, wrapped in heavy duty foil
Directions
In a small bowl, whisk together the lemon juice,garlic,rosemary,slat,pepper,thyme and olive oil.
Place the chicken in a 9 x 13 pan and pour the marinade over the chicken.
Cover and place in the refrigerator for 2 hours.
Preheat the grill to medium and remove the chicken from the refrigerator and allow to sit at room  temperature for 30 minutes.
Place the chicken fat side down and place two bricks on the chicken.
Grill over medium heat for 20 minutes.
Flip and place the bricks back on and grill for an additional 15-20 minutes or until the juices run clear and the internal temperature has reached 165.
Allow chicken to rest for 5 minutes prior to cutting.
Tags: Grilling, Dinners, Easy, Chicken