Chicken Fajita Casserole
Katie Jasiewicz | Katie's Cucina Updated
Our Chicken Fajita Casserole takes advantage of leftovers and turns them into a delicious meal. Read on to find out how!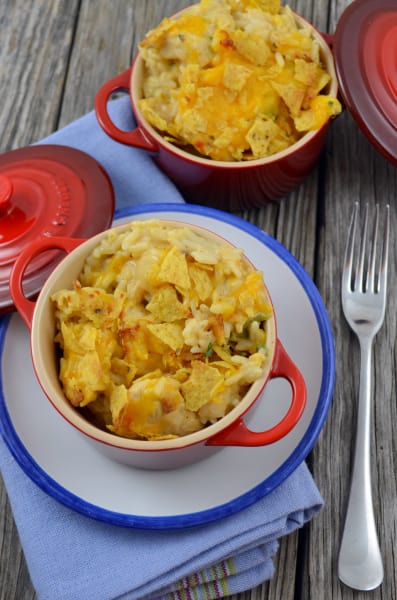 Do you like to eat leftovers? I do - and eat them almost daily; however, I love to re-invent leftovers! And that my friends is exactly how this Chicken Fajita Casserole was created.
I'm not a big fan of chicken fajitas I mean, don't get me wrong. I'll eat them, but it's not my favorite meal on the planet and to eat them multiple days in a row? That's definitely not going to happen. I had some leftover rice along with leftover chicken and vegetables and had a crazy thought: why not make this into a casserole?
Let me just tell you: That was the best decision I've made in a long time! First off, it is a one-pot meal. My husband swears that when I cook, I use every pot I own. He fully appreciates the one-pot meal concept.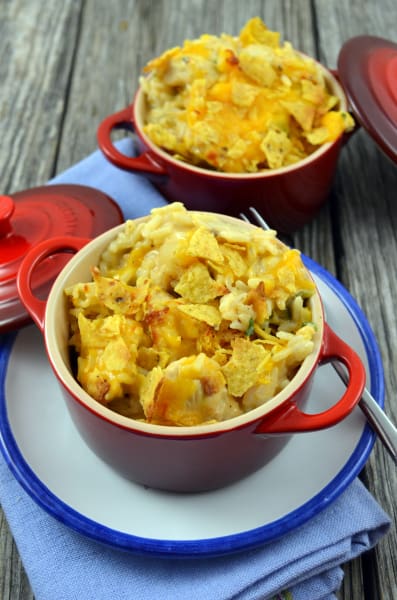 The creamy-gooeyness of the cheese, as well as the comfort of the rice and veggies along with the fajita seasoning, made this casserole full of flavor. Plus, we had completely forgotten that this was dinner two nights prior.
For a little extra crunch and for good measure, I crumbled up a handful of tortilla chips to add to the top of the casserole. I originally baked this casserole in a large baking dish and then carefully scooped portions into the ramekins to serve for dinner. Presentation is everything... especially when you have what I like to call "ugly food."
This is now the new way I like to eat my chicken fajitas. So, the next time you have an abundance of chicken fajitas leftover you know exactly what you are going to do... make it in to a casserole!
Ingredients
2 cups Chicken, cooked
1/2 cup Sour Cream
1 teaspoon Hot Sauce
1 tablespoon Fajita Seasoning
1 cup Cheddar Cheese
2 cups White Rice
2 tablespoons Fresh Cilantro, chopped
1 cup Tortilla Chips
Directions
Preheat oven to 350°F.
In a large bowl combine, 2 cups leftover chicken fajitas/cooked chicken, sour cream, hot sauce, fajita seasoning, shredded cheddar cheese, rice, and chopped cilantro.
Mix until well incorporated.
Spray a large baking dish with non-stick cooking spray.
Carefully place the chicken fajita mixture into the pan.
Cook for 25 minutes until hot.
Remove and add 1 cup crushed tortilla chips and bake for an additional 5 minutes.
Serve in individual ramekins or on a plate.
Top with additional sour cream, cheese, and cilantro if desired.
Notes
For the 2 cups cooked chicken, I used leftover grilled chicken fajitas.

Tags: One Pot Meals, Fajitas, Chicken Casseroles, Chicken, Casseroles