Blueberry Waffles
Megan Myers | Stetted Updated
Blueberry waffles make an excellent start to your day. Full of antioxidants and happiness, they can't be beat.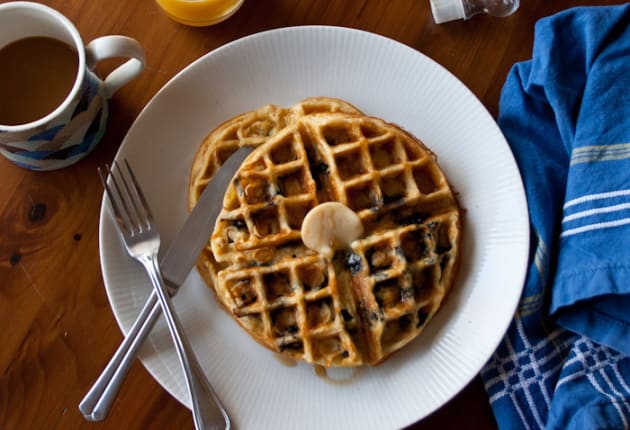 Waffles have always been a special occasion breakfast around my house, something that we'd actually only get when we were visiting one of our favorite local diners.
Don't get me wrong: I adore waffles, even more than homemade pancakes. But after a few failed attempts at making waffles with a bargain-priced iron, we sort of forgot about this meal for a few years.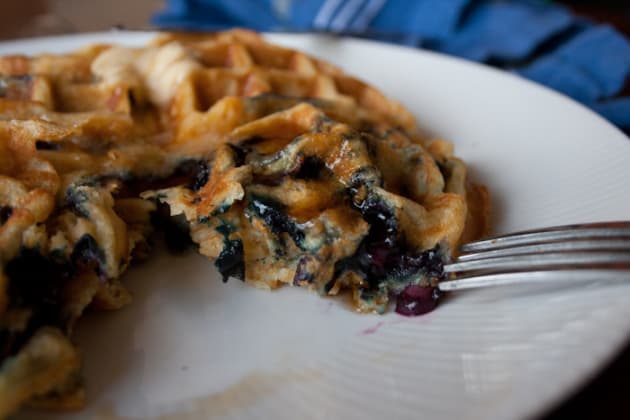 Then this Christmas I received a glorious double Belgian waffle maker, and now my breakfast-y thoughts are filled with waffles. I have at least 10 waffle ideas percolating in the back of my brain, just waiting for another weekend to try them out.
This recipe is currently my favorite. Filled with plenty of juicy blueberries and given heft by cornmeal and whole wheat flour, they're a great way to start the day. The batter does require a little bit of resting time, so plan ahead.
Ingredients
4 tablespoons Unsalted Butter
1/2 cup All-Purpose Flour
1/2 cup Whole Wheat Flour
1 cup Yellow Whole Grain Corn Meal
2 teaspoons Baking Powder
1/2 teaspoon Baking Soda
1/2 teaspoon Salt
2 cups Milk
6 teaspoons Sugar
2 large Eggs
1 teaspoon Pure Vanilla Extract
1 cup Blueberries
Directions
Melt the butter and set aside to cool.
Sift together flours, cornmeal, baking powder, baking soda, and salt in a medium bowl.
In a large bowl, beat together milk, sugar, eggs, and vanilla until foamy.
Stir in flour mixture, then add melted butter.
Let rest for 30-40 minutes.
Preheat waffle iron.
Stir blueberries into batter. (It's OK if a few of the berries get crushed.)
Cook waffles according to iron's instructions, making sure to spray the plates before each waffle.
Serve immediately with the best butter and maple syrup you have.
Store any leftovers in the fridge, and crisp up in a 350°F oven.
Tags: Breakfasts, Waffles, Entree, Whole Grain