King Ranch Chicken
Shelly Jaronsky | Cookies & Cups Updated
Our King ranch chicken recipe will melt your mouth and satisfy your dinner mates. Read on for a look at the finished product.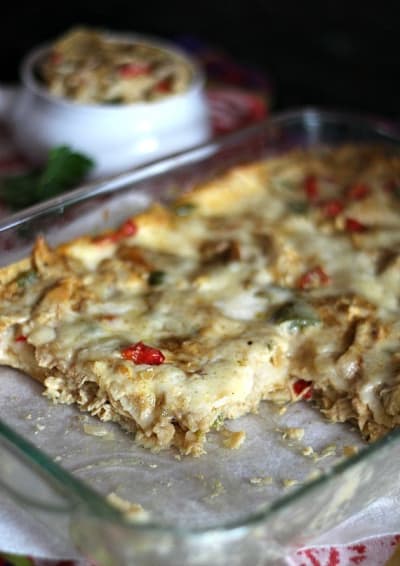 I love casseroles.
Honestly, nothing screams cozy better than a dish baked in a 9x13, covered in cheese and served on its own. Forgive me, I am a child of the 80's, when condensed soup reigned supreme.
King Ranch Chicken was a huge favorite of mine growing up. My mom only made it occasionally, but for some reason it made an impact on me. I have cooked it for my family many times, trying different variations along the way.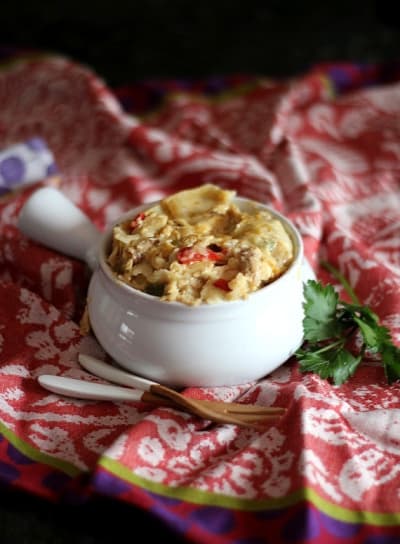 When life is really crazy, and I need a short cut to dinner, I buy a rotisserie chicken from the supermarket and shred it to make this casserole. It's a quick and inexpensive way to save some time. But certainly you can cook your own chicken... I won't judge!
Once, when I was feeling a bit fancy, I decided that I would forgo the condensed soup and make the whole casserole from scratch. I have to say, it wasn't the same. 
So here's one of my favorite cozy foods, condensed soup and all. It's a recipe only slightly altered from my mom's own recipe box.
Ingredients
1 tablespoon Olive Oil
1 tablespoon Butter
1/2 cup Onion
1/2 cup Red Bell Pepper
2 cloves Garlics, minced
1 can Cream Of Mushroom Soup
3 cups Chicken, cooked
1 can Cream Of Chicken Soup
1/2 teaspoon Red Chili Powder
1 teaspoon Cumin
1 teaspoon Black Pepper
1/2 teaspoon Cayenne Pepper
dash Salt
1 cup Chicken Stock, divided
12 Corn Tortillas
2 cups Cheddar Cheese
Directions
Preheat oven to 350 degrees...
In a skillet heat olive oil and butter over medium heat. 
Cook onion about 5 minutes until they become soft and translucent. 
Add diced bell pepper and garlic and cook approx 2 more minutes until they soften. 
Add both the cans of soup, 1/2 cup of chicken stock, the shredded chicken, chili powder, cumin, pepper, cayenne and salt. 
Stir to combine and heat through. Remove from heat.
In a 9x13 baking dish pour the remaining 1/2 cup chicken stock. 
Tear 4 tortillas in half and arrange them evenly on the chicken stock in the pan. 
Spread 1/3 of the chicken mixture over the tortillas. 
Repeat this process 2 more times using all the mixture and all 12 tortillas.
Sprinkle the cheese on top and cover tightly with aluminum foil.
Bake casserole for 40 minutes. Let sit for 10 minutes before serving,
Tags: Comfort Food, Chicken Casseroles, Chicken, Dinners, Entree